Dr. Leila Jaafar-Thiel, CEO and Founder
After gaining her doctorate in biophysics as an International Max-Planck Research School scholar, Leila joined the nuclear field in 2006, starting as an engineer in radiation protection and neutron fluence. Throughout Leila's career, she has worked across multiple disciplines as a technical project lead in nuclear engineering, lastly in the production of radionuclides. Before founding Swiss Nuclides, Leila was active as a programme manager in the worldwide development of infrastructure for radionuclide production. As CEO, Leila focuses on shaping and the execution of Swiss Nuclides' international strategy towards its primary goal of improving the availability and affordability of radiopharmaceuticals in cancer diagnosis and therapy worldwide.
Claudia Halasz, CFO
Claudia has more than 20 years of experience in corporate finance and M&A advisory and special focus on the life sciences industry. She advises Swiss Nuclides on all corporate finance related topics as an external CFO. Claudia has grown up in Switzerland and worked several years in investment banking in London and New York before returning to Switzerland. She holds a Master's Degree from the University of St. Gallen and is a Senior Director at Hoffmann & Co AG (Switzerland).
Prof. Dr. Gustav von Schulthess, MD, Ph.D., Medical Advisor and Co-Founder
As a double board certified nuclear medical practitioner and radiologist, Gustav was the Director of Nuclear Medicine and Co-Director of MR at University Hospital Zurich, and visiting Professor of Radiology at Stanford University. Under his 27 years of leadership, the PET centre and the PET radio pharmacy at the University Hospital Zurich (USZ) developed to an internationally renowned center for radiopharmacy and PET imaging. As Medical Advisor, Gustav guides the company on pharmaceutical development, especially the clinical trial procedures and federal and local regulations related to clinical research and market authorization of a radiopharmaceutical.
Assoc. Prof. Pasha Razifar, Ph.D., Head of Research & Development
Pasha possesses more than 12 years experience in molecular imaging (PET/hybrid imaging), R&D and drug/tracer development. As an Associate Professor at Uppsala University, Pasha has longstanding expertise in teaching in higher education/university, publishing several internationally published scientific articles and holding oral presentations at different national and international conferences. He is the main inventor for ten granted patents in cancer, cardiac/lung and 3D multicellular spheroid imaging. Pasha shares his vast knowledge in image analysis and brings his substantial experience of starting up and leading SMEs (medical technology and healthcare) into the company. As the Head of R&D, he will direct the preclinical and clinical research and development worldwide.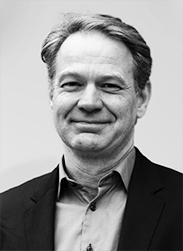 Erik Strömqvist, COO
Erik brings with him more than 25 years experience in the nuclear field and in particular nuclear power, medical cyclotrons, radiochemistry, PET tracers and medical scanners. Erik is native Swedish but has previously lived and worked in the USA and has done global business for more than 20 years. Erik's focus is to build efficient Swiss Nuclides operations across Europe and globally. He holds a Master of Science in chemical engineering from Chalmers University of Technology in Gothenburg (Sweden) and is a Director at MedTrace Pharma A/S (Denmark).
Dr. Nikolai Ahrens, Strategic Advisor
After studying biochemistry and also obtaining his doctorate degree in physiology and cell biology at Oxford University in 1993, Nikolai had a 20 year career in investment banking (S.G. Warburg, J.P. Morgan, Citigroup, Lehman Brothers/Nomura) where he advised the senior managements and boards of predominantly chemical and life sciences companies on mergers and acquisitions and other corporate finance transactions. He then joined a private investment platform in Switzerland as managing partner before co-founding his own advisory boutique, focused on the life sciences sector. Nikolai also has significant experience as non-executive Director in private companies across multiple industries. As Strategic Advisor to Swiss Nuclides, Nikolai focuses on all aspects of fundraising and supporting senior management on business development and execution of their strategy.